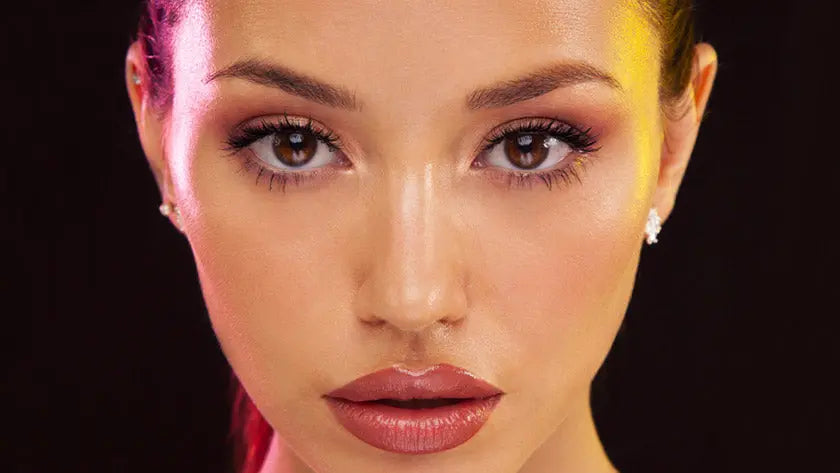 It is one of our must-haves, an indispensable ally... But do we really know it? Here are some interesting facts about mascara!
To enhance your eyes, nothing beats a mascara! Thanks to their different textures and formulations, our mascaras are able to meet all needs, making our lashes long, volumised and defined. Another essential part of the success of this product is the brush, which can be made of fibre or elastomer, regular, curved, asymmetrical, hourglass-shaped... Really, we are spoilt for choice!
All these features will help us choose the right product for us, but why not take a trip back in time to learn more about the history of mascara? Let's start...
Once upon a time...
Perhaps not everyone knows that mascara has been used since ancient times. The Egyptians used to use a mixture of khol powder and waxes to lengthen and thicken their lashes. This trend was later adopted by the Greeks and Babylonians, and then the Romans. On the contrary, in the Middle Ages, eyelashes and eyebrows were even shaved to highlight the forehead, which was considered a true attribute of beauty.
Mascara or Rimmel?
Modern mascara was invented in 1860 by Eugene Rimmel, one of the great innovators of the cosmetics industry. His product was so successful that the word "Rimmel" is often used as a synonym for mascara.
Its mixture consisted of coal dust and Vaseline, and although it was not yet in the form we know today, it did its job. 
The different versions
Mascara has not always been as we know it today. Initially, it was sold in awaffle and applied with a brush, then came the tube version that could be squeezed directly onto the brush. Finally, thanks to Helena Rubinstein, the product and the applicator were combined in a single pack, creating the automatic mascara that has become a must-have for all cosmetic brands.
Things NOT to do!
Mascara is a very delicate product because it comes into contact with the eyes, which is why it should be stored in the best possible way! First of all, you should always bear in mind the PAO (Period After Opening), which is the period within which the opened product can be used, and which usually ranges from 3 to 6 months for mascara. After this period of time, especially if the product appears dry and has clumps, the mascara should be thrown away.
Also, if your mascara is dry, do not dilute it with water or cleansing milk, as this may alter the formula and ruin its performance. And always remember not to pump the applicator inside the tube:this gesture is very common, but it allows air to enter the tube and causes the formula to dry out, making application increasingly difficult.
Finally, mascara (like all cosmetics) should be removed before going to bed. Failure to remove mascara risks weakening the lashes and even making them fall out.
How many types of mascara are there?
Mascaras are not all the same and, indeed, their different formulations and compositions are designed to meet everyone's different needs.
In general, mascaras can be divided into cream and waterproof products. Cream mascaras are very soft and easy to apply, but are not very strong. Waterproof mascaras are less likely to smudge or flake, but can be difficult to remove.
There is, however, an interesting innovation that combines the characteristics of cream and waterproof mascaras. We are talking about the BIGANDTHICK Lashes by Mesauda. An innovative, high-performance mascara designed to last a long time without being heavy or aggressive on the lashes.
Its waterproof formula is super innovative because it does not contain isododecane and therefore does not dry out the lashes, but is extremely comfortable just like a cream mascara. In short, a "new waterproof" that combines the texture of a cream mascara with the resistance of a waterproof one. Try it to believe it!
Another fundamental characteristic for defining the function of a mascara is the brush, which can be of various shapes and materials. Let's see them together:
Classic: has fairly dense bristles and a tapered tip;
Hourglass: has very dense bristles that make the lashes fuller and thicker;
Cone-shaped: facilitates application, making it much more precise;
Ball-shaped: allows the lashes to be defined one by one;
Comb: Combs the lashes and distributes the product evenly;
Thin: ideal for reaching the smallest and thinnest lashes;
Curved or asymmetrical: perfect for curling lashes;
Fibre: they have a natural, yet extremely defined look;
Elastomer: has flexible bristles for optimal and precise application.
And here too, BIGANDTHICK Lashes is an innovative product! It has a special asymmetrical elastomer brush. Its special shape allows it to reach all lashes (even the smallest and thinnest), defining and volumising them. In just a few strokes, the product envelops the lashes for a panoramic yet super-natural effect.
Comments (0)