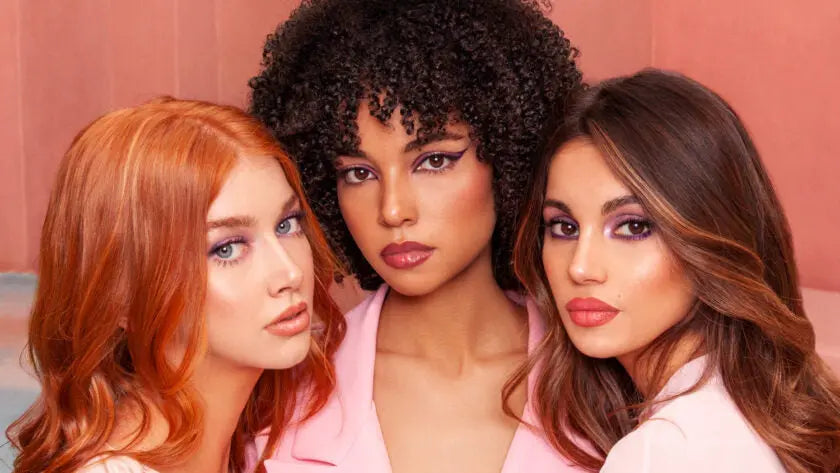 Spring, time for rebirth! It's time to think about (also) the ideal spring make-up to brighten up our days.
It seemed like it didn't want to come, but Spring 2021 is finally here and has brought with it sunny days, flowers, warmth and... lots of beauty news! We can't be found unprepared: we need to think immediately about the perfect spring make-up for the beautiful season.
Make-up is no longer a mask
that has to cover us up or distort our appearance, quite the contrary! It should be
an act of personal care and self-expression
, giving us the courage to express ourselves freely in new ways. And what better metaphor could there be than flowers that are reborn and reveal themselves in spring? In short, this Spring 2021
,
rebirth also means make-up
, which will allow us to reveal and reawaken, just like flowers do!
Natural base and coloured eyes
Never before as in the last year have we (finally!) realised the importance of an
flawless make-up base
. Preparing our face, in fact, increases the performance and durability of make-up, and gives us a natural look. Spring make-up starts with a base with primer and foundation with a second-skin effect, and then goes for a very neat but very natural facial make-up. Give colour to your cheeks to achieve a
bonne mine effect
. The ideal will be products from the
subtle textures
that do not clog the pores and give the skin light and vibrancy, for a
fresh and radiant look
.
If the base is natural, the eyes will be super coloured!
Make-up can be played with and experimented with, creating completely new combinations and effects. Pastel shades such as pink Powder and lilac triumph on the eyes. And yet it is the textures and finishes that are the real stars of this season: you can be daring with
metallic effects
combining matte and shimmer shades, or blending darker eyeshadows for a more natural look.
giving depth to the gaze
. Again, exaggerate with eyeliner and create
coloured graphic effects
and pop flavour.
Lipstick? The mask doesn't stop our desire for colour!
Base and eyes are the absolute protagonists, but lips will also play an important role in our spring make-up. This hot season will also see us wearing masks, but at the first opportunity to take it off we should definitely make sure we are ready. And what better way than with an ultra-brilliant lipstick? We've already talked about
vinyl effect lipsticks
These Spring/Summer must-haves are back this year (despite the masks) to brighten up our make-up. Opt for pigment-rich formulas for rich colour and long-lasting make-up, and then go for a plumping effect for visibly plumped lips.
Mesauda spring is called Petal Dream
Now that we've listed the main trends for this Spring 2021, let's get to Mesauda's newest addition:
the Petal Dream collection
.
Bold and delicate at the same time, the collection will completely transform your spring make-up, allowing you to achieve different looks according to your needs.
Two blushes, a palette of nine eyeshadows and three liquid lipsticks
i: these are the perfect ingredients to give your beauty routine a floral twist. Let's discover them all...
BLUSH

Camelia

and

Orchid:

are two marbled blushes. Thanks to their light and ultra-sensorial texture, they blend pleasantly into the complexion, releasing a thin and comfortable film on the skin. Enriched with Vitamin E with anti-oxidant and anti-ageing properties, they give colour and radiance to the skin, livening up your looks.
PALETTE

Blooming Flower: nine eyeshadows in a delicate and fresh palette, ideal for creating magnetic and sophisticated looks, full of personality. The matte and shimmer shades have a creamy texture for infinite looks.
ROSSETTI

Pampas,

Sakura

and

Peony:

three ultra-brilliant, vinyl-effect liquid lipsticks. They have a special plumping formula with a volumizing action, for visibly plumped lips. The finish remains light and the texture hyper-pigmented, guaranteeing hydration and intense long-lasting colour.
The products of the
Petal Dream collection
are an invitation to play with colours, to experiment with many different looks: comfortable blushes, multicoloured eye shadows and boldly coloured lipsticks sit on your skin just like petals. What are you waiting for?
Are you ready to live the Mesauda floral dream?
Comments (0)