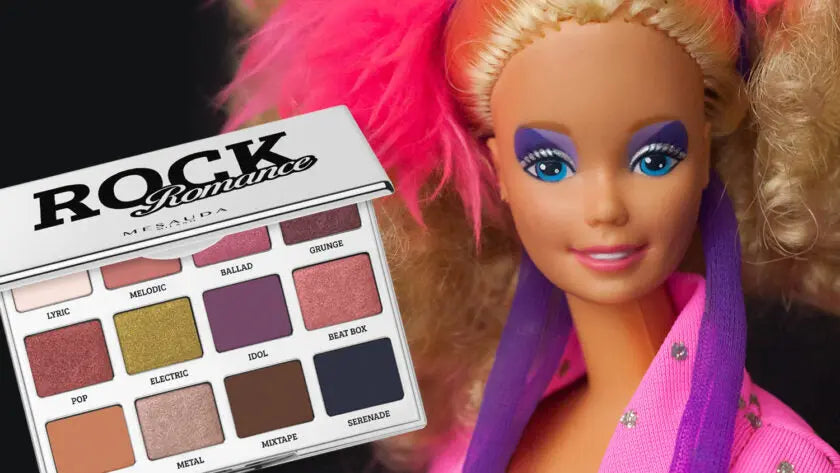 It's Barbie's birthday, the iconic doll companion of our childhood. Let's celebrate it with some make-up tips designed for you by Mesauda.
Who among us has never played with a Barbie doll? The American doll is famous all over the world and was a faithful companion of our childhood. But did you know that she also has a very special and detailed biography? Thanks to a clever plan to increase her fame, the Mattel production company has, in fact, outlined her story and today we can even celebrate Barbie's birthday!
A bit of history and some interesting facts
Barbie's full name is Barbara Millicent Roberts. Born in Willow, Wisconsin, she was initially thought of as a 17-year-old model. Over the years, however, has changed over 150 jobs. alsospeaks more than 50 languages, has lived in several homes and in 2004 even announced her campaign to become President of the United States.
But let's move on to her personal life... Barbie has six younger siblings: Skipper, twins Todd and Tutti, Stacie, Kelly (known in Europe as Shelly and later replaced by Chelsea) and Krissy. In addition to her parents George and Margaret, Barbie also has numerous aunts, uncles and cousins, and of course lots of friends including Midge, Christie and Teresa.
Barbie has no children and has never married. On the other hand, she has a historic boyfriend who is almost as famous as she is. We are talking (obviously) about Ken, whose full name is Kenneth Sean Carson. Barbie and Ken have been engaged since 1961. They broke up in 2004 and got back together in 2010. In 2004 Barbie had a flirtation with Australian surfer Blaine, brother of her friend Summer.
Why is 9 March Barbie's birthday?
Mattel has stated that Barbie's birthday is 9 March. In fact, the doll was first put on the market on 9 March 1959.
Over the past 62 years Barbie has become a faithful playmate of little girls all over the world. But if at first she was just a beautiful girl with a bewitching look, nice clothes and an enviable life, recently has become a symbol of diversity and inclusion: without hair, with vitiligo, in a wheelchair or with a prosthesis. The "new" Barbie wants to welcome everyone into her world, without losing her cheerful and carefree style.
Barbie style also in Mesauda make-up
There is no field in which Barbie has not had an influence: from fashion to music, from films to make-up. Her style has, in fact, given rise to numerous make-up lines and tutorials that reflect her feminine and playful style, starting with theiconic pink colour.
If you want to add a "pink touch" to your make-up routine and celebrate Barbie's birthday, you won't be able to do without our tips and products.
Once you have created the base of your make-up, you can use the blusher to add a hint of pink to your complexion. Choosing between the many products on the market is not easy, which is why we want to recommend two Mesauda blushes that will meet your needs:
WIFEY

is the baked blush with an ultra-sensory and creamy texture. It glides on and blends effortlessly into the skin, giving a striking and sophisticated radiance that enhances any complexion.
Cheek Kiss

is the multi-purpose blusher stick that can be used on cheeks, lips and eyes. The cream to powder texture, soft and creamy, makes it ultra blendable and layered. Enriched with Jojoba oil and Candelilla wax, it gives the face a natural radiance and healthy complexion.
For lovers of eye shadows and irreverent make-up, we suggest ROCK ROMANCE Palette in full Barbie Rockstar style. Its 12 colours are available in 3 different textures with extraordinary writing and sensorial qualities. Experiment with new combinations, or perhaps opt for the more classic neutral colours such as Lyric and Melodic: every style will find its ideal eyeshadow!
And now to the lips. A matte lipstick will be the ideal choice to complete your look. Matte Romance, for example, has an extreme, full and ultra comfortable colour. The creamy, lightweight feel is combined with perfect adherence and absolute comfort thanks to the emollient oils in the formula.
If, on the other hand, you want a more subtle look, you can opt for Lip Coocon by Mesauda, the coloured moisturising lip balm which, like a rich oil, glides on and blends pleasantly on the lips.
So, whether you want to use just one product or try the full make-up, we are sure that our tips will guide you in choosing the perfect make-up to celebrate Barbie's birthday in style.
Comments (0)