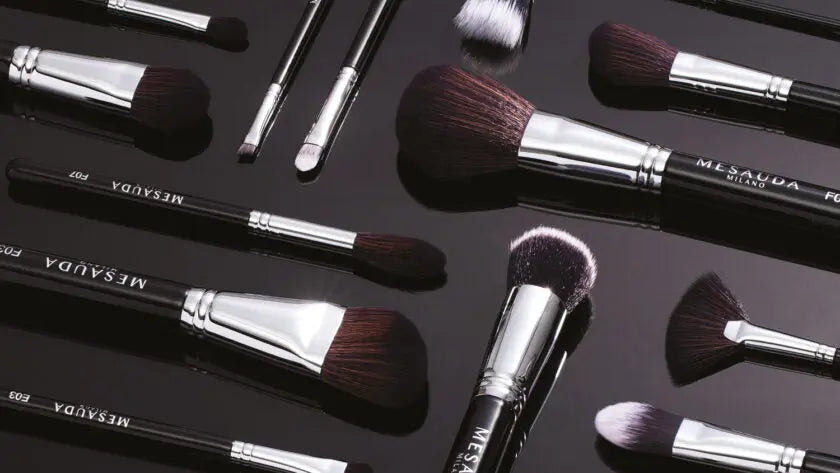 Make-up brushes are ideal allies for your make-up routine. Choose the right one to achieve professional results and bring out your beauty.
The brushes make-up can accompany you every day and help you express your style. With the right ally, you can achieve professional results and bring out the best in your face while minimising minor imperfections.
Discover how to use make-up brushes to bring your make-up to life!
How to use make-up brushes for the face
Face make-up brushes are used for applying foundation, concealers, Highlighters, blush and Powders.
When you want to conceal imperfections, the brush for Concealer is a must. Flat Concealer is a brush Concealer precisionbrush, to be used whenever you want to conceal imperfections and redness.
If your Concealer has a liquid or cream texture, Buffer Concealer is the make-up companion you need to use to dab on the product until you get the desired coverage. Did you know? You can press the Concealer onto the foundation where you need to minimise discolouration.
A foundation brush can be specific for powder or cream products.
For foundations with a creamy texture, Buffer Foundation is the foundation brush designed to make the complexion visibly smooth. Flat Foundation is specifically designed to distribute foundation into hard-to-reach corners.
With products with a powdery texture, Classic Powder allows you to set your make-up and achieve a light coverage. Use it for both foundation and Powder and Bronzing Powder, applying the products with even circular movements for a flawless and even result.

The blush brush Angled Blush is designed to brighten the complexion with gentle movements. It is used by taking a small amount of product at a time and making light outward strokes to blend the colour, without concentrating it on the cheeks alone. If you don't know where to apply your blusher, smile in the mirror: you'll quickly find the centre of your cheeks and you'll be in a good mood!
Once you have completed the steps for complete face make-up, use a brush to Highlighter and give your face a glow. Tapered Highlighter is ideally shaped to give a glowy touch to your make-up. Achieve a natural effect by dabbing the product on gently, using the brush dry or slightly damp.
The must-have contouring, stippling and blurring brushes
The most impressive make-up techniques, as you know, require suitable tools. Here are 3 special brushes that will make all the difference in your professional make-up.
Contouring is used to define the features with a play of light and shadow. To achieve this, use Powder Contour, the contouring brushthat helps sculpt the features with powder products. The unique shape and dense bristles make it perfect for sculpting the face as you wish.
With its creamy texture, Cream Contour and its compact bristles allow you to achieve a flawless result by taking just the right amount̀ of product.

Stippling is the technique of tapping the face for intense pigmentation. Stippling Foundation allows you to apply and blend your foundation perfectly thanks to its fibres of two different lengths. Pick up the product and apply by lightly pressing with small rotating movements on the skin for a flawless face base.
Blurring is a term stolen from photography. It consists of creating a gradual transition between colours, in cosmetics through the use of a fan brush. Blurring Fan allows you to blur large portions of the face, eliminate small mistakes such as fall out of powder products and achieve a natural effect.
Eye make-up brushes
For professional eye make-up, choose the eye shadow brush that suits the area to be made up. Large Eye Shader and Medium Eye Shader are indispensable for applying your eye shadow. With the precision brush Small Eye Shader you can shape your look, applying the product exactly where you want it.
For an intense smokey eye, blend the eyeshadow with a blending brush: Tapered Eye Blender and Flat Eye Blender are perfect to distribute the eyeshadow on the eyelids and achieve a subtle effect. Eyeliner Definer is a must-have for creating a defined eyeliner, even for those who are new to this technique: take a small amount of colour and make small strokes to join later if you are unsure of the shape to create.
Also, with Pencil Eye Shader, you can shape your eyes by taking care of the smallest details with precision. Use it to apply and blend eyeshadows and pencils along the lash line, as well as to brighten the inner corner of the eye with a Highlighter.
Define your eye make-up with perfectly outlined eyebrows with the eyebrow brush Brow Definer: the valuable ally to use with both gel and cream products to give your eyebrows the shape you want.
For kissable lip make-up
Professional lip make-up always relies on the right accessories. This is why applying a simple lipstick without contouring the lips will not have the same effect as high-precision make-up. Use the lip brush Lip Contour for optimal application control and a smudge-free result. You can take Lip Contour with you to finish the contours of your lips on the go!
Which accessories are indispensable for your make-up? Discover them all at ouronline shop .
Comments (0)