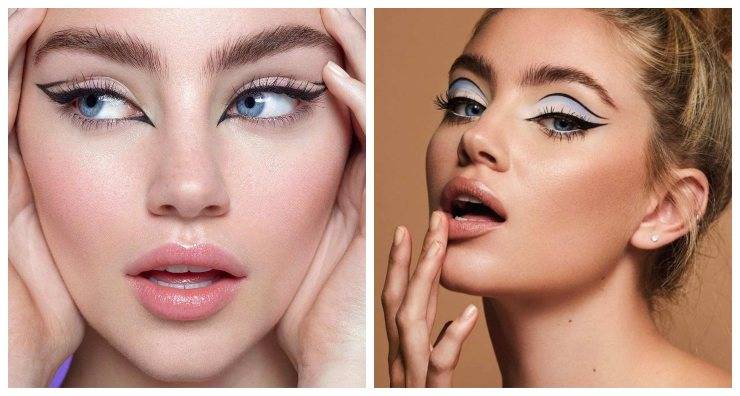 "Eyeliner is the little black dress of makeup: simple and gorgeous on everyone." "It makes the lashes look fuller and the eyes look bright and open." 
Applying eyeliner can be a pain! Especially if you don't know the right tips and techniques, you pretty much proceed with your eyes closed. Eyeliner can completely elevate your look, transforming it from simple to extraordinary in no time. You can use a simpler look for work and add a wing for the evening. It can transform a simple jeans and T-shirt outfit and be the perfect addition to a nice party outfit. If you love the look of eyeliner and are wondering about the best ways to apply it, here are the must-have eyeliner tricks for beginners that you absolutely must know!
1. Use pencil eyeliner (if you don't have one, try a black pencil or try Artist eyes) before liquid eyeliner (24-hour promo only, here)
Instead of starting with liquid eyeliner, use pencil eyeliner first to define the shape you want to create. Then you can fill it in with liquid eyeliner-it will be much easier and the application will be much smoother! Once you have defined the eye shape with pencil eyeliner, you can switch to liquid eyeliner to get the look you want!
2.
Try the dotting method
What is the dotting method? Draw small dots on the top of the lashline with your chosen eyeliner. Slowly blend them together with liquid eyeliner so that they look like a single stroke of eyeliner. Be sure to blend them evenly so that no trace of the dots remains.
3. Use a magnifying mirror
A magnifying mirror will help you achieve a perfect look with eyeliner. It will give you more clarity while applying eyeliner and help you apply it smoothly!
4. Winged eyeliner tricks.
SmithaDeepak suggests 5 key eyeliner tricks you need to know if you want to perfect the winged liner look. They are all easy and can be accomplished with items found around the house. From creating a stencil with tape to using a wing stamp, these are easy ways to achieve a gorgeous winged look! Not familiar with her? Copy from the famous youtuber how to make the perfect shape.
5. Mascara to the rescue
Did your eyeliner run out before you went to a party? Don't worry, you can use mascara! Use a
angled brush
for eyeliner to apply mascara as if it were liquid eyeliner. It will work just as well and look just as good!
6.
Start with the toughest eye
There is always a toughest eye to make up, isn't there! Start with that eye so that it is easier to match. Otherwise, you may waste too much time trying to match the harder eye to the easier one!
***
7.
Don
't hesitate
If you hesitate to draw eyeliner, your hand will shake and the eyeliner will be applied unevenly. Draw the line in one stroke and fill it in. Even if you have to do it again a few times, it's better than having a crooked line!
8.
Use Concealer to perfect eyeliner
When it comes to mistakes with eyeliner, Concealer is perfect. One of the biggest mistakes you can make is to use water or makeup remover to try to remove black smudges. Put a little bit of
Concealer
on an angled brush and use it to erase eyeliner mistakes!
9
.
Practice
, practice, practice
Don't be discouraged if you try winged eyeliner a few times and can't master it. As in all things in life, the more you practice, the better you get. Practice will help you get to know the shape of your eye and where to place the eyeliner when your eyes are open. Also play with different thicknesses. Find out what works best for you and keep practicing until you perfect the look you want!
Perfecting eyeliner has never been easier than with these tricks! Practice makes perfect, so practice these tips and tricks and you'll get gorgeous eyeliner every time!
Comments (0)