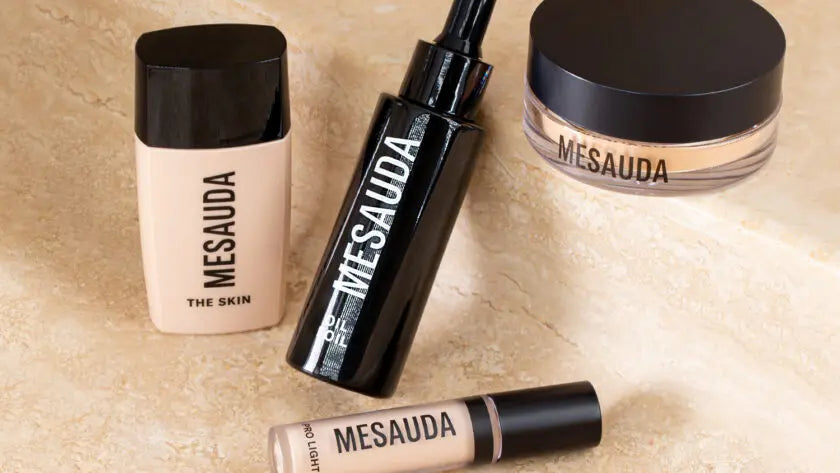 Creating the perfect make-up base is the secret to flawless, long-lasting make-up. Here's how to make it and what mistakes to avoid...
We all know that success starts with the basics, and this also applies to make-up! A good make-up base is the secret to perfect make-up... If you think that "make-up base" only refers to face cream, you are wrong... To create a good base, in fact, there are several steps that involve both skin care and make-up.
Let us begin...
Before starting with the actual make-up, make sure your face is well cleaned and moisturised. After the skin care routine , prepare your skin with the usual basic cream. As always, choose the face cream that best suits your needs and massage in until it is completely absorbed. This will help keep your skin toned and help the product to be absorbed quickly.
When the cream is completely absorbed, you can move on to creating the make-up base...
Face primer
We have already talked about the importance of face primer, the ideal ally for our make-up: not only does it prepare the skin, smoothing and evening it out, but above all it fixes the make-up and prolongs its duration. In short, a make-up base is not really complete without a good face primer.
Choose the one best suited to your skin type:
If you have combination or oily skin, try the Shine Free primer, a fresh and smooth gel that gives the skin a smooth and matte finish.
For dry skin we recommendOil Foil, which penetrates the skin instantly and provides deep moisturisation.
Finally, for normal skins the most suitable face primer is definitely Zero Flaws, with a filling and smoothing effect.
Concealer
Let the primer soak in and move on to the next step of the make-up base: the Concealer. 
Again, choose the product that best meets the needs of your skin and, above all, your imperfections. To cover dark circles and minimise facial imperfections, liquid concealers such as Pro Light, Concealer with high moisturising power, are definitely the most suitable. 
For extra coverage that doesn't weigh your complexion down, opt for concealers in stick form. Our One Stroke has a comfortable texture and offers adjustable coverage, designed for many different needs. 
Foundation
And finally we come to foundation. The undisputed protagonist of our make-up, it is also the master when it comes to make-up base because it is the product which, more than any other, manages to even out the complexion. 
There are so many different formulas and colours out there, and again it is essential to choose a product that meets the needs of your skin.
For dry skin that needs continuous moisturising, we recommend the brand new THE SKIN: this is a sun foundation with a very high concentration of water that makes it super moisturising. It also has a luminous finish and an adjustable texture.
Do you prefer creamy foundations? Then the right product for you is Cover Stick, the innovative creamy foundation in stick form that is so easy to apply and blend.
Finally, if you have combination or oily skin, or simply prefer a matte, powdery finish, try Magic Wand. Its formulation conceals imperfections and protects the skin, just like a magic wand.
Remember that when it comes to foundations, as well as the formulation, application is also important. If you want a more covering effect, apply the product with a brush, always remembering to choose the right one for your favourite products.
For a more natural, even effect, choose a sponge, such as Mesauda's Make-Up Blender. Remember to pat without rubbing: this technique will help prevent streaks and product build-up on the face.
Powder
And here we are at the end (or almost) of our make-up base. The Powder will help you to mattify and fix your make-up: its characteristic is that it dries the creamy texture of other cosmetics, guaranteeing a long-lasting effect.
Again, the secret to a perfect finish is in the application. If you use a sponge, be very careful to dab the product on gently so as not to create too thick a layer of Powder , which could make your make-up look heavy and artificial. Alternatively, use a brush from Powder to apply a light veil of product, fixing the foundation and evening out the complexion without creating too thick layers of powder.
And now for some advice on product selection... If you have combination or oily skin, the Powder most suitable for you is Celestial Veil Invisible, which contains Silica, with sebum-absorbing properties. For normal or dry skin, we recommend Celestial Veil Translucent, which is delicately toned and contains Mica, which has adherent and moisturising properties.
And then... Define and give colour
Once we have a neutral make-up base, we can also think about the finish. This means that we have to give colour and define volumes.
With the steps analysed so far we have "prepared the canvas": the face is uniform, but we need to give it volume! Now the final touch will be given by the application of Bronzing Powder, blush and Highlighter which will sculpt the face.
The Bronzing Powder is designed to sculpt volumes and enhance shadow areas. Blush, on the other hand, lights up the face and highlights those areas of the face that naturally tend to blush. Finally,Highlighter gives light and a glow effect to strategic points of the face, such as the cheekbones, cupid's bow, inner corner of the eye, back of the eye and tip of the nose.
Now that we have told you all the secrets of a perfect make-up base, you just have to put it to the test. Choose your favourite products and give your beauty routine a makeover!
Comments (0)