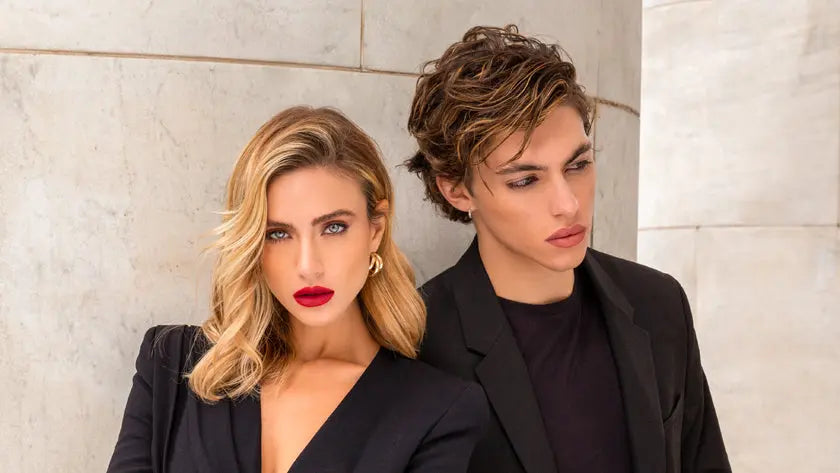 For flawless lip make-up, go for matte lipsticks. The new CULT Matte lipsticks will be your ideal allies to nourish your lips and wrap them in vibrant colours.
Lips are back in the spotlight, not only for glamorous looks and embracing colours, but also because they need to look nourished and plumped. And what better choice than a hyper-pigmented, highly nourishing matte lipstick? If you don't believe that all these features can coexist in one product, take a look at the new CULT Matte!
CULT Matte are the brand new Mesauda lipsticks with a full and even colour release. A line of 18 matte finish lipsticks that will sweep you off your feet with their super sleek packaging, nourishing formula and performance.
Let's start by talking about the pack. The surface is black enamelled aluminium with contrasting silver text. Inside, the lipstick's lead is velvety and embellished with the embossed pattern of the brand's M's. A real CULT!
18 full and enveloping shades
And now let's talk about the shades! The CULT Matte shades have been designed to meet all requirements. 18 different colours to create infinite looks.
The nudes come in warm and cool shades, ideal for all complexions. The first colours (201 Statement and 202 Impeccable) are super-embracing brown nudes, ideal for daytime looks. As we "go on", the nude shades become increasingly pinkish. We then have darker shades ranging from brick to mauve, including brighter pinks (such as 211 Sexysweet and 212 Stylish) and even purples. Finally, the reds are both cool (216 Lover's) and warm (217 Sex Machine) and are perfect for creating bold looks that suit everyone.
From the very first application, the colour appears rich and even. Pure pigments saturated with colour allow for a full and vibrant pay-off, for an absolutely perfect final effect.
Nutritious and innovative formulation
And last but not least, let's talk about the ingredients. The special formulation of CULT Matte is designed not only to ensure comfortable application and perfect adhesion, but also to nourish the lips. This is achieved through emollient waxes and oils.
The emollient waxes give structure to the texture and allow the colour to be released fully and evenly, while the oils repair, remodel and soothe damaged skin, stimulating cell proliferation and the synthesis of collagen and elastin.
In short, your lips will not only be super glam, but also nourished, smoothed, plumped and enveloped in extreme colour.
Comments (0)