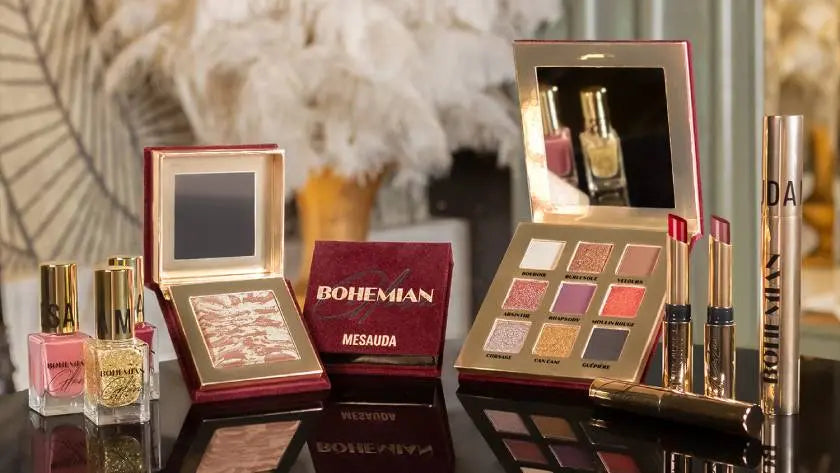 The most magical and glittering time of the year is approaching, and Mesauda wants to celebrate it with the Bohemian Glam collection. Let's discover it together...
Mesauda celebrates unconventional elegance, freedom and unconventionality with the collection BOHEMIAN GLAM. Bohemian style and glittering glamour meet in a collection with a sophisticated and retro flavour that will enliven the most magical time of the year.
A selection of products, all vegan and with innovative formulas, which will add an extra touch to our winter looks with their intense and bright colours.
A journey back in time awaits you! Lose yourself in the sequins of MOULIN ROUGE to the rhythm of CAN CAN. Relax in a CAFÉ on the streets of PARIS, and let yourself be inebriated by the sweetness of a cup of CHAMPAGNE. The Bohemian Glam collection will transport you to a glittering world!
The products in the collection
The Bohemian Glam collection consists of a selection of cruelty-free and vegan products, all made with new and improved formulas that will help you achieve retro gypsy looks with a refined touch.
BISMILLAH! and POEM
Marbled blushes, with a fine and ultra-sensorial texture, have a luminous finish and give light and colour to the face and décolleté. Thanks to their composition, they create an intense 3D luminous effect for sophisticated looks and give the complexion an even, delicate and multi-dimensional colour thanks to the highconcentration of powdered crystals mixed with micro-pearls.
Blush 101 in bulk the colour is a delicate beige with bronze marble highlights, in application the colour changes to a beautiful

nude pink.
Blush 102: in the mass, the colour is a flamboyant fuchsia with marble
gold highlights, in application it turns into afaceted

carmine rose.
BOHO
Boho mascara creates an all-round multidimensional effect forperfect lash separation and definition . After just one stroke, lashes appear thicker, longer and curled with incredible lengthening and definition. Every single lash, even the finest, is separated with precision and without clumps.
GAUCHE RIVES
The palette contains 9 eyeshadows with aspecial creamy texture in matte and shimmer shades. Discover all the colours together:
BOUDOIR: creamy matte colour, ideal for many different looks;
BURLESQUE

: warm shimmer bronze;
VELOURS: hazelnut matte;
ABSINTHE: duo-chrome, brown with purple and green pearls
RHAPSODY: burnt purple matte;
MOULIN ROUGE: sparkling red shimmer;
CORSAGE: Pure metal;
CAN CAN! cool shimmer gold;
GUÊPIÈRE: matte black.
CAFÈ, MIMÌ and PARIS
The three matte lipsticks in stylo are a real innovation thanks to their immediate and homogeneous colour release. They dress the lips in full, opaque shades, and the no-transfer formula and water resistant spreads easily for sensual, bold lips and a hold of up to 10 hours.
The formula is enriched with CAPUAÇU BUTTER: derived from the seeds of the Amazonian Capuaçu tree, a tree of the Malvaceae family. In Spanish it is also called cacao blancoor white cocoa, because the product looks (precisely) like white chocolate. It has a high content of phytosterols with a repairing and nourishing action on dry and damaged lips, and polyphenols that help combat free radicals.
CAFÉ: an enveloping peach rose colour;
MIMÌ: a sophisticated mauve colour;
PARIS: a cardinal red, symbol of passion.
DANDY, CHAMPAGNE and GAMINE
Finally, completing the collection are the three Nail Polish nailsare ultra-bright and long-lasting. Their patented Easy Application brush guarantees impeccable, even and smudge-free colouring.
DANDY

is a

burgundy red

rich and intoxicating;
CHAMPAGNE

is the

Nail Polish glitter

perfect for adding a 'sparkling' touch to a manicure;
GAMINE

is adelicate antique pink

for a sophisticated and romantic manicure.
Comments (0)