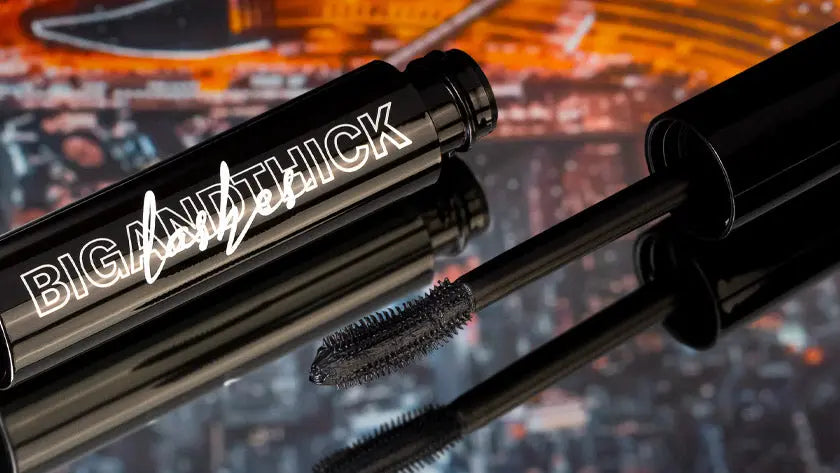 Highlight your eyes with BIGANDTHICK Lashes, Mesauda's innovative mascara that will give your lashes volume and definition for a long-lasting panoramic effect.
Mesauda rewrites the rules of make-up with an innovative, workout-proof mascara. The novelty is called BIGANDTHICK Lashes: a "new waterproof" formulated to last a long time without damaging the lashes. A resistant, high-performance product suitable for any occasion.
Surprising definition and extreme durability: these are the main features that will turn BIG&THICK Lashes mascara into your best ally for a panoramic look.
Waterproof, long-lasting, humidity and sweat-proof mascara for 30% more volume in just one stroke.
This is a cream mascara whose formulation is designed to have the benefits of waterproof mascaras, but without weighing down, weakening or drying out the lashes. It does not contain isododecane and is therefore comfortable and non-aggressive.
The product is enriched with Jojoba esters and an optimised blend of animal and vegetable waxes. This allows for easy application and enhances the durability of the volume lash after lash. PLASTIC Waxes give flexibility and softness to the lashes, while FILM Waxes with a high melting point give definition and lengthening to the lashes.
The other special feature of BIGANDTHICK Lashes mascara is the asymmetric elastomer brush, which is designed to volumise and define the lashes.
The convex part has short, flexible bristles that are ideal for reaching even the smallest and thinnest lashes, enveloping them and giving them volume. The concave part, on the other hand, has extremely soft bristles that serve to lengthen the lashes and open them up to create a panoramic effect. Finally, the rounded tip with long bristles allows for clean and accurate application even in the inner and outer corners of the eyes.
Thanks to its special shape, the brush can be used by rotating it 360° for a panoramic effect. In just one stroke, lashes are defined, combed and super-volumised!
In short, BIGANDTHICK has all the credentials to become an icon, a must-have product to enhance your eyes and bring out your natural beauty.
Comments (0)