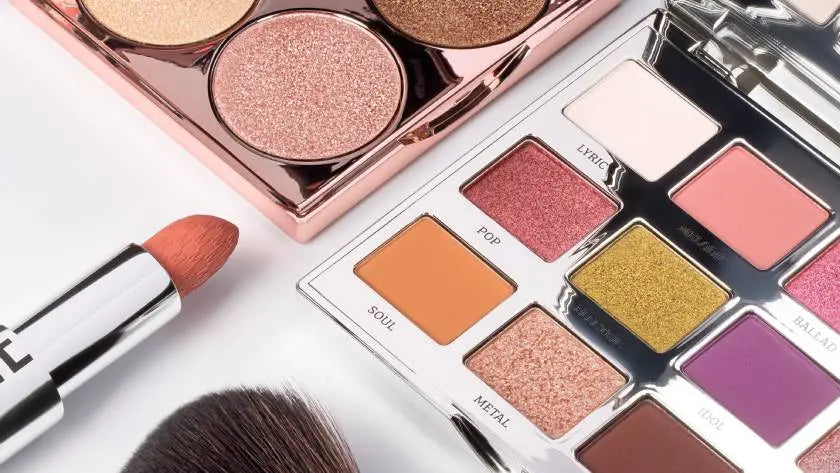 Let's start the new year with a list of good intentions, including for our make-up! Let's discover the good habits to adopt for 2022...
"New year, new life". How many times have we repeated this? And how many times have we kept the promises we made at the beginning of the year? Our good intentions don't always make it through the first few months of the year, but sometimes a few small steps can help us keep the promises we made on New Year's Eve and, of course, improve our routine.
And if we're talking about routine, it's impossible not to mention our make-up routine too! Yes, because even our beauty routines need a breath of fresh air and good intentions. Here are a few ideas for a super-glam 2022 of good habits.
Choose the right face primer for you
We talked about it a lot in 2021, and we will continue in 2022! Face primers are the secret ingredient that will improve the durability and performance of your make-up. It is a "perfector" of the epidermis: halfway between a facial treatment and make-up, it creates the foundation of your make-up andkeeps it therefor longer .
In short, a make-up base is not really complete without a good face primer.
Choose the one best suited to your skin type:
If you have combination or oily skin, try the Shine Free primer, a fresh and smooth gel that gives the skin a smooth and matte finish.
For dry skin we recommendOil Foil, which penetrates the skin instantly and provides deep moisturisation.
Finally, for normal skins the most suitable face primer is definitely Zero Flaws, with a filling and smoothing effect.
Correct... and moisturise!
Another essential step in creating the perfect make-up base is, of course, Concealer! Our advice is to choose a product that is opaque but not too heavy, and above all one that has a high moisturising power to take care of the eye contour area, which, as we know, is very delicate.
Pro Light Concealer is the highly moisturising fluid Concealer. The texture has the characteristics of a mineral product with calibrated powderiness and a covering, protective, elastic and filling film. Thanks to its smoothness, it adheres perfectly and corrects imperfections.
Eye pencils? There's more than just black
One of our 2022 resolutions could be to use coloured eye pencils! Don't worry, we're not suggesting excessive make-up, just a touch of colour that will enhance your eyes.
Each colour has its own particularities, its own rules and its own specific uses. Let's find out which colours are best suited to us according to our characteristics and the final effect we want to achieve...
Black or grey pencil: dark colours are used to give definition to the eye and slightly reduce its size.
White pencil: a little-known product, but extremely useful for brightening and enlarging the eyes. 
Brown pencil: a colour that suits everyone, as it recalls the natural colours of Bronzing Powder. In particular, it looks great on blond hair and a fair complexion.
Nude pencil: again, the light colour serves to give light, for example, it can be used to illuminate the brow bone and the hollow of the eye.
Blue pencil: ideal for brown and blue eyes, can be used as a base for eyeshadows of the same shade or even combined with purple eyeshadows to create contrast. 
Green pencil: an ally of brown and green eyes, you can find it in many different shades, but it is the dark and intense greens that are the most popular because they give depth to the eyes.
Burgundy pencil: colours ranging in red and/or purple are ideal as a base for eyeshadow, but are also among the most popular for upside-down make-up.
For the eyes, go for the panoramic effect
In 2022 the eyes will be the absolute protagonists thanks to mascara BIGANDTHICK Lashes.
A workout-proof mascara, high definition and surprising volume. Formulated to last, this mascara resists everything, is a "new waterproof" long-lasting, humidity and sweat proof, for lashes volumised to +30% in just one stroke.
This is a cream mascara whose formulation is designed to have the benefits of waterproof mascaras, but without weighing down, weakening or drying out the lashes. It does not contain isododecane and is therefore comfortable and non-aggressive.
In addition, the special asymmetric elastomer brush is designed to reach the smallest and thinnest lashes, giving them volume and opening them up for a panoramic look.
Don't forget to fix your make-up
Smart, practical and indispensable for flawless make-up. Makeup fixers are products you can rely on if you need to have perfect make-up for many hours.
They are used to fix make-up and increase its duration. Available on the market in various formulations and with different ingredients, they are always in spray format.
They can be used in different ways:
After make-up, as a make-up fix, they even out the result and make it less powdery, for a fresh and natural effect.
As a make -up brightener to restore radiance and correct make-up.
Fix Me Up! is the make-up fixing spray that creates a thin protective film on the skin and fixes make-up all day long without altering it. Invisible and imperceptible, thanks to its formula with cosmetic alcohol, it evaporates quickly without ever being sticky.
Mist N' Glow is the fine make-up refresher with extracts of Chamomile, Calendula and Rose Water, ideal for refreshing and soothing even the most sensitive skin. When used during the day on a made-up face, its revitalising action makes make-up appear brighter, as if it had just been made.
Comments (0)